Spanish Fork, Utah
Legacy Farms LLC
Legacy Farms is a unique development set in the historic farmland of the northeast bench of Spanish Fork, Utah.  The design incorporates approximately 750 units and is designed with traditional neighborhood principles, walkable streets, varied architecture, and integrated parks and common open space.
Legacy Farms offers a wide variety of residential unit types, from townhomes to large estate homes with pristine view of the Wasatch Mountains and Utah County.  This atmosphere will help to create a true sense of community.
The integrated park and trail system of Legacy Farms are highlighted by playgrounds, sports fields, pristine wetland area with boardwalk and a series of trails.  As a pedestrian friendly environment, Legacy Farms will enable residents to walk or bike on a trail system or play with their children at the neighborhood field without ever getting into a car.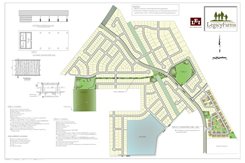 Project Experience
• Conceptual Master Planning
• Preliminary Plat
• Public Hearing Presentation
• Civil Design
• Road Design
• Site Grading/Lot Grading
• Stormwater Management
• Off-Site Road Improvements
• Marketing Displays and Materials
• Project Permitting