Mapleton, Utah
Presidio Capital
The planning of Mapleton Village was based primarily on principles of traditional neighborhood design and sustainability, and was designed to create a closely knit, pedestrian friendly community with large open and community spaces for various activities.  The design is characterized by narrow streets, a variety of different residential unit types to suit different needs, alley loaded garages, and a "green" stormwater management system.
The project was designed to incorporate the following sustainable practices:
"Green" stormwater management
Water-wise landscaping
EnergyStar rated homes
Open space preservation
LEI staff was involved in the final master planning and master landscape design, as well as the preparation of a pattern book which provides design standards for the design and construction of residential units and landscapes.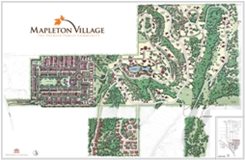 Project Experience
Master Planning
Master Landscape Design